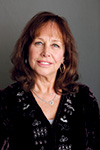 2013 marks a milestone in my personal crusade to inspire and motivate people to live extraordinarily. The creation of TigerPath Team, Inc., a nonprofit public benefit corporation, is the culmination of a dream I have had for over a decade. TigerPath Team's mission is to equip people with quality skills that promote self-discovery, functional thinking, and character rehabilitation. TigerPath Team's purpose is to deliver customized services and products in order to complete its mission.
For more information, visit TigerPath Team.org and participate in raising the quality of your own life as well as those of other community members. You may never consciously know the impact of your own good deed, donation, positive input, or other contribution; you will, however, carry the self-knowledge and chemical reactions forever!
DEDICATION
This website is dedicated to all humans, as we are all survivors of challenging life experiences. In these pages you will discover that you can accomplish great feats when properly motivated, read about others who have been so empowered, and find links to sites for education, information and assistance in various services areas. If you have been a victim of a violent crime, you will be able to find links to get help. If you want to establish a neighborhood watch, you will find links for how to create one. Feel free to contact me as I am at your service!
MY FAVORITE JAUNT OF ALL
In August, 2005, I was very honored to make four different speeches at the 17th Meeting of the International Association of Forensic Sciences ("IAFS") in Hong Kong. I am the first victim/survivor to ever address this group. I felt like a pioneer woman must have felt moving across America in the eighteen hundreds, crossing where nobody had been before. Being a voice for victim/survivors worldwide was grand, necessary and overdue.
I spoke from my heart about my story, about why victim/survivors speak out and why they won't or don't and about the myths that need dispelling [SEE PDF]. I made a plea for higher standards for victim care and case management [SEE PDF]. I suggested tools and techniques for creating balance in the forensic specialists' lives [SEE PDF]. I acknowledged forensic specialists and suggested new perspectives regarding DNA typing, testing and funding, as well as worldwide strategies for information-sharing [SEE PDF].
---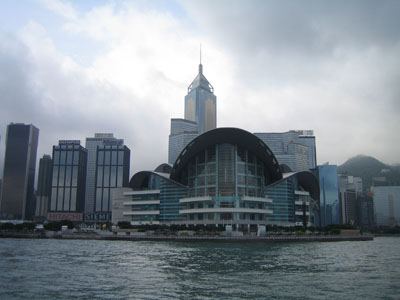 Hong Kong Convention Center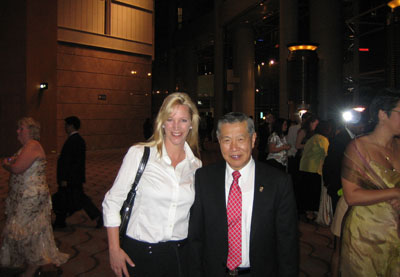 Dr. Henry Lee (Chief Emeritus of the Connecticut State Police, Founder and Professor of the Forensic Science Program at the University of New Haven, Editor of Seven Academic Journals, author/co-author of 30 books and over 300 articles) and Susanna Rudy (forensic nurse)

Jeri Elster on a break at IAFS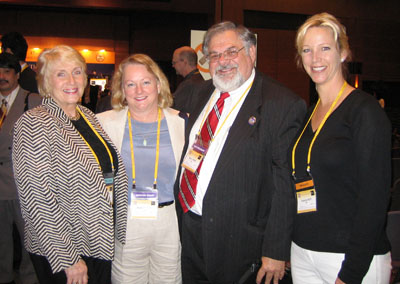 Left to right, Virginia Lynch (forensic clinical nurse specialist, author, MSN, RN, FAAFS, FAAN), Wendy Taylor (DNSc, CNS, RN, clinical forensic nurse specialist), Barry Fisher (Director of the Los Angeles Crime Laboratory, LA County Sheriff's Department, author), and Susanna Rudy (forensic nurse)